Wonderful! All is as it should be.
Congratulations for making the decision to fast-track your progress with a private mentoring package. I'm really looking forward to collaborating with you on a much deeper level.
>> Please complete your clarity questionnaire here <<
Your transaction details are being sent to your email inbox this very moment. Click here for step-by-step instructions on how to whitelist my email address so that you don't miss anything important.
I will be in touch with your next step soon!
Yours in Witchiness,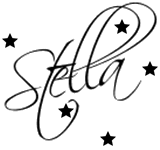 Stella Seaspirit
Your Wayshower in Witchiness