Want to meet and associate with a community of like-minded modern witches?
Looking for a community to surround yourself with Witchy Ones around the world exploring magick & their true nature?
This group was created for getting feedback from your peers and mingling with friendly, understanding magical folk.
It is not just "my" community ~ I'm there to facilitate and lead, not to be the only voice. This space was created to extend the conversation from my free weekly offerings and an opportunity for you to help others in order to receive help for yourself.
Please feel free to comment and share your experiences, thoughts, questions, appreciation, successes as well as fears, doubts and challenges (as long as you are willing to explore what the message in the situation could be and approach it from a place of personal power, even if it is just raw vulnerability). There is nothing to prove and no one to impress there.
___________________________________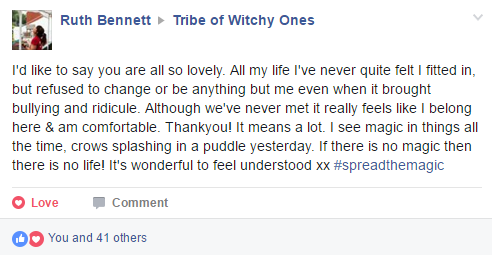 ___________________________________
This Group is for
All modalities and levels of development are welcome; from beginners, intermediate and advanced to professional practitioners of the sacred arts and sciences.
Asking witchcraft, lunar, seasonal, ritual and magick related questions
Sharing thoughts, ideas, insights and successes around magick in the everyday
Posting pics of your altars, crystal grids, meditation spots, course materials etc.
Describing where you experienced magick today
Getting good vibes and support on your non-sparkly days
Telling us how you bring more magick into your day or the successes you have (along with what you did) so that you can help others achieve the same
Discussing any of Stella Seaspirit's materials you are using (free or paid)
This Group is NOT for
❌ Spam or disrespect. Anyone who posts blatant promotion, solicits members via private messaging or is impolite to other members will be removed immediately and banned from the group permanently. However, YOU MAY offer your talents IF someone is asking for something you know you can help them with.
❌ Posting relentless memes (image quotes) of any kind, there are other groups for that. We want to keep this community's focus on open conversation, learning and participation.
❌ To be clear "spam" or "promotion" refers to any link to your blog, media mention, opt in page or website, a pitch for a free discovery session or gift (with or without opt-in), giving free card readings, linking to your social media pages, promoting an event or sale, posting affiliate links, competitions, surveys, quizzes, any kind of voting, or charity link, posting long off-topic threads to position yourself in a particular way that is not conducive to a learning environment. There are other groups for that.
The Tribe of Witchy Ones is one of the best spaces on the planet for practical tips and inspiration to be a more confident soul-connected modern witch.