How I Came To Be a Professional Source-ress
This is not quite what I thought I was going through university for and planning to do with my qualifications! Spirit had another design and I wanted to share with you a little bit of how I came to being a wayshower for Witchiness in the 21st century.
I was born naturally Witchy
My Barbie dolls were magick-wielding Amazons who communicated telepathically with everyone and everything around them. When I was growing up my parents were studying Rosicrucianism so I learnt about meditation and metaphysical concepts early.
At 14 my mom gifted me with my very first book about Witchcraft
A teensy book she had bought in 1972 aptly entitled "Everyday Witchcraft" by Delphine Lyons. This quickly became my most valued possession. The cover has a white cat on it lying beside a black candle in a silver candlestick and a string of red coral beads. The write up on the back cover begins with "Sorcery in the 70's! Modern witchcraft for today's woman! If you dare, you can…"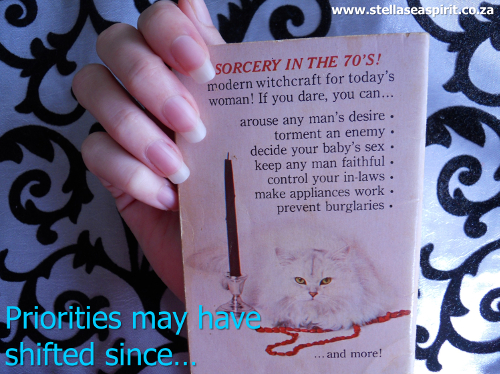 I did a spell or two from it and then the book literally disappeared
Much to my dismay. It reappeared two years later inside the cover of another book on the bookshelf where I know it could not have ended up accidentally! I took it as a sign that I was ready. Both books still stand next to each other on my bookshelf today 🙂
A natural sponge for information and random trivia I did well in school and they rewarded those at the top of the class with vouchers for a local book shop (for a bookworm ~ incentive much)?!
Anyhow, I had a special aunt who would send me some cash in a card for my birthday too so I would add that to my voucher purchasing power. The very first book I bought about Witchcraft was "The Supermarket Sorceress" by Lexa Roséan, it was fascinating and like I was re-membering things not learning anew. This really catapulted me into formulating a meaningful process.
By the time I turned 21
I was looking for further understanding about the underlying dynamics of how spells work and I really wanted to build some structure around what I was already doing intuitively.
Many books about the arcane and metaphysics were consumed by me. My mom was teaching workshops on shamanic journeying so I accompanied her to every one and even spent 90 minutes a day immersed in shamanic journeying for two years straight.
I was seeking something that I just couldn't put my finger on
There was a thirst and craving for more knowledge because I thought I could find that one golden nugget where everything would click into place.
Three years later, I realised what it was that the books and course materials were missing…
Sensory experience.

Nothing conjured up the sensation of the unseen energies for me like hearing the wind in the leaves of trees.

I wanted to feel the energies of Earth, sky and the spirits thereof so that I could come to know them like familiar faces that I could build a personal relationship with and imbue into my life.
Instead I got lists of lengthy correspondences that left me feeling rather lacklustre.
Empty words in stacks of books repeating the same old same old.
I discovered that there is a HUGE difference between talking about the unseen realms and gaining knowledge about them through reason alone VERSUS actually working with the cosmic forces directly.
What I was looking for was
The trigger that would bring magick to life, not only in my head and heart but in the very fibres of my being so that I could confidently walk between the worlds of spirit and matter.
I wanted to bring the theory into practice and actually feel the shifts taking place.
I wanted to experience magick in the here and now. And I do.
Understanding how magick and spells work is not enough

Giving the energies expression through you brings them to life in your reality.
I knew alchemical fusions and otherworldly realms existed.
I took it upon myself to explore, expand and establish rapport with the subtle energies that called to me so strongly.
I had a driving force flowing through me to recall their subtle stirrings within my being.
I extracted fragments of soul memory and activated light codes held in my DNA from other dimensions where the hidden realms are tangible.
I had to reclaim a truer expression of myself, so that I could show you how to take your natural tendencies and inclinations for Witchery to the next level.
And now I share the exact processes and techniques that I know work and those before you have had positive results with too, so that you can shave years off your own learning curve and make a quantum shift at an accelerated rate!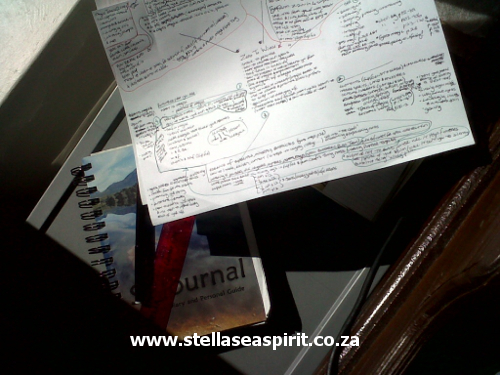 Two things you need to know about becoming a Witch and staying magical 24/7
1) No words on a page or screen will do that for you.
2) Teachers can only take you as far as they have gone.
Via my online witchcraft courses I give you a proven framework to discover the same sensory experience I was seeking. When you integrate these sensations inside yourself they become 100% real for you. Then it is up to you to build on to that with your own soul wisdom, rising into further new levels of experience.
Everything I show you I have learnt and experienced for myself first hand so I know it works. You get the theory behind the methods so you understand the dynamics PLUS the practical exercises to help you integrate the subtle energy work and anchor it in your being.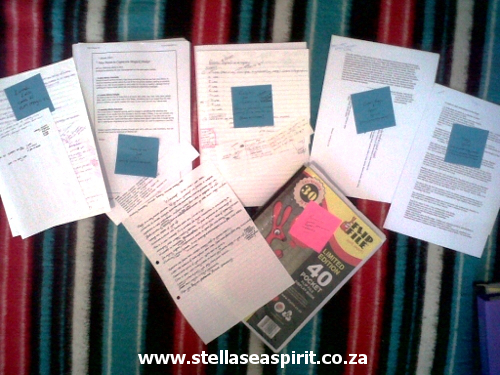 As an incarnate spiritual being you are not supposed to spend the majority of your time in spirit realms, you are here to fuse spirit and matter and you can't do that if you deny your material side from taking pleasure in your experience of this living library.
I don't believe you need to study for a year and a day before being considered for initiation. As far as I am concerned the time for mystery schools and selective dissemination of information is over. They served their purpose in preserving wisdom and preventing misuse of it during times of denser vibration.
Witchcraft by my definition is a living philosophy.

Not a religion.

It's a lifestyle that nourishes your soul ~ it is about better knowing your true self and communing with the cosmos (what is greater than your physical sense of self).

I don't work with deities, instead focusing on archetypes, not because I think that's the only way to do things, it just feels right for me.

Universal Source energy is not an isolated superior entity from me. We are one and the same. I don't require an intermediary for what I am capable of accessing within myself, and neither do you.
Deepening your relationship with Spirit and your Source-Self in fact makes you more productive and efficient. It also places you in optimal flow from one moment to the next. Because you are fully in tune with yourself and the energy of a situation, you are better equipped to process and move forward from life's challenges.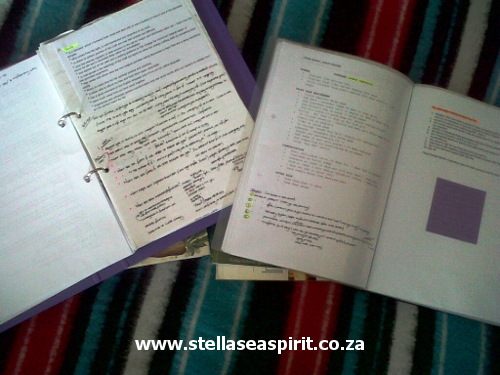 I "tested" my framework out on a small group of witches to make sure my processes work. Afterwards, what they said behind my back made me cry…
Now is the time to re-member who you are and to stand firmly in your own power. You already possess the potential and ability and just need guidance on how to recall it which I refuse to withhold from you. Earth and the Elementals require your assistance at this time to unlock your gifts and abilities and fully step into the Wise One that you are.
Welcome Magick Maker, I'm delighted you are here. Thank you for choosing to be on the planet at this time and for allowing me to play a small role by accompanying you on your path as we restore deep magick to Earth.
Can't wait to show you how to integrate more of your soul essence and wisdom in a way that takes your spiritual knowing to cosmic being!
If you feel ready in every fibre of your being, ENROL NOW to embody more Source-ry in your day-to-day way of being, and experience the spiritual activation and expansion into your truer multidimensional nature and cosmic beingness.
From my Witchy soul to yours,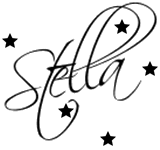 Stella Seaspirit
Your Wayshower in Witchiness