17 Motives to Attune to Venus Retrograde Energy to Flourish
For approximately 40 days and 40 nights during 4 March 2017 and 15 April 2017 Venus will be retrograde from our perspective here on Earth. During this time its influences are more palpable and tend to dominate specific Venusian trends in our lives.
Cast your mind back to what happened in your life particularly related to the areas of love ad money between July and September 2015, the last time Venus was retrograde…
Where did you feel dissatisfied or unfulfilled?
What did you do about it?
How did things unfold as a result?
In what ways have you come to value yourself and/or your work in the world since?
This is not about worship of a deity. The idea is that cosmic patterns move the energies in a fluid way over the Earth and we are able to activate them more easily within ourselves.
After approximately 2000+ years of distorted patriarchal dominance the divine feminine goddess energy is reintegrating with our way of being on the planet, stimulating more intuitive approaches in all respects that aid in restoring balance on this plane.
Feminine energy holds a negative charge while masculine energy holds a positive charge. Together they form the magnetic field that unifies the pattern of life.
Masculine energy is directive; it gives structure to the living matrix. Feminine energy responds to this framework by imbuing it with creative power.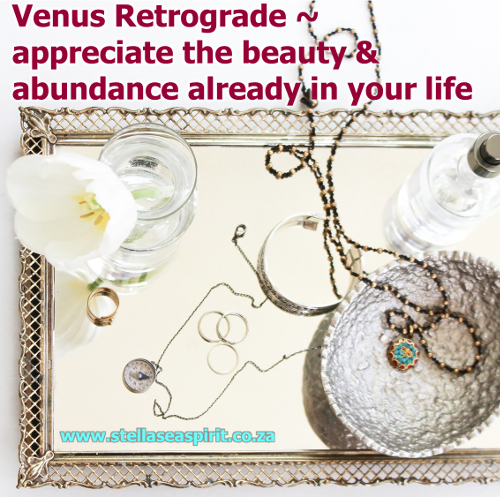 Attune to Venus retrograde energy to:
1. See the beauty, abundance, friendships/any other human connections and all the good already in your life
2. Develop more happiness and peace in your life (What do you know better? Where do you want to do things differently?)
3. Foster centeredness within by stopping to smell the roses and acknowledging the beauty around us so often taken for granted
4. Cultivate the inner qualities of self-love and appreciation of inner beauty
5. Pamper your physical body as your most valuable asset (without health, loved ones and something that uplifts and inspires you every day money is meaningless)
6. Bring laughter and joy to the lives of others that instils hope, serenity and faith
7. Deepen your emotional connection with others (intimate relationships, friendships, business connections)
8. Smooth a period of rapid change (work, home, travel)
9. Evaluate where you are over giving or under giving in a relationship (any type) and perhaps prepare to let go if it no longer serves you
10. Boost your allure to attract a new love
11. Re-examine how you want to present yourself to the world and if it matches what you wish to experience
12. Recognise your self-worth and the value you provide to others
13. Explore and open up to new possibilities for different or enhanced income streams. Poise yourself for a fresh realisation that creates breakthrough regarding a financial blockage
14. Re-assess, recommit or release your spiritual path (or any form of partnership)
15. Work with a woman to explore the possibilities of a project/aspiration that is important to you or focus on developing women-related projects
16. Embrace your feminine power, with long spa style baths, time outside connecting with the Earth through your feet, belly or back
17. Take a dance class like belly dancing, Latin American or even Zumba with hip movements that stimulate your creative sacral chakra
Have you have felt the call to deepen your spiritual practice? More consistently maintain spirit connection and cultivate your inherent abilities? But you feel like you just don't know how to allow everyday life to merge with that innermost aspect of your being? Then the Sparkling Witch Coven may be just what you need…